As a writer, it's interesting to trace the inspirations that have come through life. One undeniably big influence are the books that we consume over time.
I hope to do a three part series, one on childhood books, one on young adult, and one on adulthood, but I figured I'd start young and work my way up. As I started I realized how many books I love, and I couldn't include them all. But here are a few that randomly sprung to mind.
DISCLAIMER: I haven't read some of these in a long time, so if I get something wrong, I'm sorry, and also if you're a parent please review the book before reading it to your kid, because I am not responsible if it goes against something you want to instill in your child because you didn't double check. I've included links to Goodreads where you can find summaries, reviews etc.
   The Chronicles of Narnia by C.S. Lewis: I have to begin with Narnia, because it's one of my happiest and earliest memories of reading. My parents took turns reading the first book to me when I was probably five or six and they've stuck with me ever since. I can't deny the beauty of these simple and magical stories.
Where the Red Fern Grows by Wilson Rawles: One of the books that made me cry a ridiculous amounts. I love my dog stories, to be sure. A great tale of adventure and friendship between a boy and his pets out in the wilderness.
  The Little Prince by Antoine de Sainte-Exupery: I read this in high school, so I can recognize the values even as an adult. However, even if children might not recognize all of the beautiful life lessons, it has value just as a beautiful and fun story.
Oscar et la Dame Rose by Éric-Emmanuel Schmitt: Again a read in high school for French class, but nonetheless beautiful and inspiring. Not sure I'd recommend it for children even though it's short. A beautiful tale about cancer, young dreams, conversations with God and so much more.
The Hobbit by J.R.R. Tolkien: A fantastic tale of adventure filled with dwarves, maps, magical mountains, ferocious spiders, and of course the terrifying dragon Smaug! A great read for people of all ages (though I believe this was a read-aloud for me as a child which probably helped!)
Tuck Everlasting by Natalie Babbitt: a beautiful and potent story on eternal life and love and youth. The thought of this book brings up some warm reminiscence within me, sort of a sweet and meaningful sadness.
The Witch of Blackbird Pond by Elizabeth George Speare: I hardly remember anything about this book, and yet for some reason I've still held onto it as a childhood favorite. I know I greatly admired the main character, that her struggle against the expectations around her always felt meaningful to me for some reason. A book that seems to prize individuality and difference in a world that says they're not so important. Definitely a story I'd have to pick up again, but I'm still going to recommend it nonetheless.
Harry Potter by J.K. Rowling: I can hardly deny putting the books on here that inspired me to want to be a writer. An inspiring and magical reading experience that I recommend to all ages (although later books in the series are a bit dark for young kids perhaps). These books offer stories that not only are captivating in plot, but also hold valuable themes about friendship, love, bravery, and the power of doing what's right. I could go on for a whole post, but that's for a later day.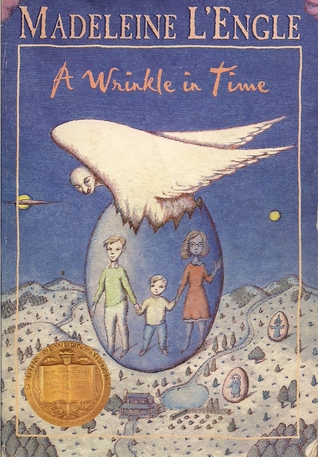 A Wrinkle in Time by Madeleine L'Engle: A strange yet oddly captivating story involving an odd mix of science and fantasy. L'Engle writes so wonderfully, and I remember as a little girl being so inspired by the character of Meg as an old sister and as a young girl coming to a bigger understanding of myself.
The Chronicles of Prydain by Lloyd Alexander: For any Lord of the Rings lovers, any kids who like fantasy and legend and adventures I highly recommend these books. They detail the misadventures of Taren, assistant pig keeper, his companions Princess Eilonwy, Gurgy, and Fleudor. And yes, there was a Disney spinoff movie but it's terrible and the books are fantastic.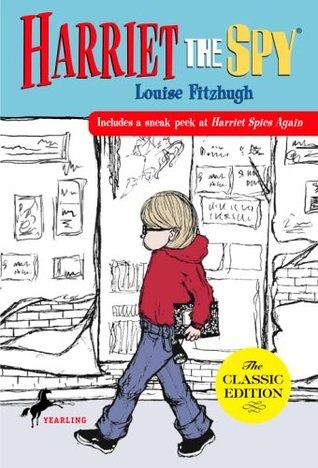 Harriet the Spy by Louise Fitzhugh: Another one of those female characters I remember feeling very similar to and loving. Harriet's adventures are entertaining, heartwarming, and perhaps even a little heartbreaking too. Definitely a good way to learn about the power our words and actions have in the lives of others and how careful we need to be.
Mrs. Frisby and the Rats of NIMH by Robert C. O'Brien: A book I remember fascinating me as a young child. I quickly devoured the others in the "series" even though they're not by the same author. It's a bit of a quirky story really, but I think that's part of why I like it so much.
A Little Princess by Frances Hodgson Burnett: As a little girl I wanted to be just like Sarah. I wanted to have that same level of grace and dignity, kindness and compassion even in the midst of sorrow and hardship. As a young teen I remember feeling motivated to try to reach out to others even while feeling very confused about myself. A lovely and sweet story.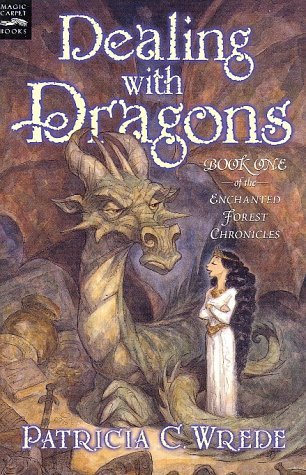 Enchanted Forest Chronicles by Patricia C. Wrede– A very odd little thing to throw on here, but I think part of it comes down to my women's studies class and thinking on what makes me who I am. I loved fractured fairy tales, and this one does fracture a few fairy tales. Essentially the princess runs off to go take care of the dragon herself, only to make a friend and find a happier life there than her boring one in the castle. I appreciated even at that age the princess not needing saving, and the fact that the dragon at one point wanted to be a King even as a woman (because a Queen is a completely different role). Fun and quirky and magical.
  The Thief Lord by Cornelia Funke: Going to Venice last year made me recall this book in a nostalgic way. I think it's one of those books that made me want to travel, if only to see the magic of the places Funke described so beautifully. A magical story full of adventure, mischief, enchantment, and history.
The Two Princesses Bamarre by Gail Carson Levine: Ella Enchanted falls a close second, but this was my favorite book by Levine. I related so much to the principle character in never feeling brave enough. Again, I enjoyed the atypical princess story, the inspiration it gave me as a young woman. I would have included Ella on here as well, but I figured this part could serve to glorify the both. A great author with many fantastic books.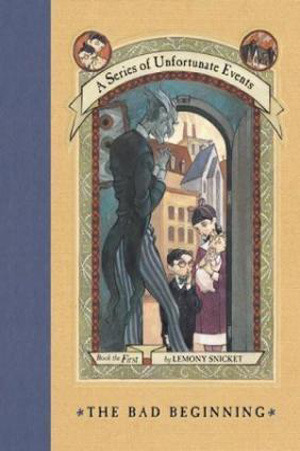 A Series of Unfortunate Events by Lemony Snicket: Quirky and odd with a failure of a finale (see Snicket…see what I did?) these books were pretty entertaining to me as a child, even if they disappointed me at the end (guess it shows they had me hooked). I loved the vocabulary and random facts I learned reading these. They never failed to make me scratch my head and ponder a little bit what madness had affected the author.
Midnight for Charlie Bone (Children of the Red King) by Jenny Nimmo:  I think part of the reason I loved this story so much was that it had a slight hint of similarity to Harry Potter. I liked the imagination and creativity behind the works, and I adored all of the characters.
The Forgotten Door by Alexander Key: Alexander Key is an obscure author I fell in love with (though I think it might have been as a teen rather than a child). A fascinating thought on the possibility of utopia, with a unique boy from an alien world coming to earth. It definitely gave me a lot to ponder at the time.
Catherine, Called Birdy by Karen Cushman: I thought I should include at least one "historical" book since I loved these as well. The famous women in history diaries were one, but I liked this one for being more fictionalized, not about anyone real but wondering what it might have been like to be a woman back in the days of arranged marriages. I adored Catherine's wit and cleverness, her clear dislike for the traditions of her day and longing for more.  A very fun story with a great heroine.
Among the Hidden (Shadow Children Series) by Margaret Peterson Haddix: Haddix is a master storyteller. I love lots of her works, but these ones were particularly suspenseful and interesting. Great dystopian fiction. I remember it brought a lot of pondering for me about population laws and government control and other important things like that.
Castle in the Attic by Elizabeth Winthrop: Again, my love of fantasy playing out. A fun and interesting adventure that followed in a series of books. I think one of my favorite things about this one was that my brother and I both enjoyed it, and I like remembering books that were shared in interest by both of us, because those are doubly special.
Half Magic (Tales of Magic Series) by Edward Eager: More oddballs. I guess I was just a weird kid, what can I say. I loved the concept of this book taking little traditional storytelling elements (like making wishes) and playing with them. Summing it up, four kids find a magical item that gives them the ability to make wishes, but only in halves. Misadventures ensue. I have a childhood fondness for all of these books for some odd reason.
The Amazing Days of Abby Hayes by Anne Mazer: One of the earliest books I remember making me want to be a writer. Really a very simple series with several books, but I still know as a little girl I had a diary I filled out with green pen (I think Abby's is purple) and I would put little quotes on it and I would try to motivate myself to do great things. Cute memories attached in spite of the lesser nature of this one.
Getting to the end of this I begin to realize how many wonderful books I've left off. I mean how could I forget about the wonderful Spiderwick Chronicles? Or the funny Bruce Coville alien series? Or the Mrs. Piggle-Wiggle? Honestly, there are too many books I loved as a girl to list here. Oh well, this is just a sparse selection, some of the first that come to mind.
What are your childhood favorites? Why do you love these so much? What books made you want to be a writer or inspired you to some future goal?