One of my favorite books of all time is Fangirl by Rainbow Rowell. Maybe someday I'll actually write a post just on it, but for now I was skimming through old favorite parts and I ran across something I think is so crucially important to writing.
So a little backstory for those who don't know. Fangirl is about a young English major named Cath who goes off to her first year of college and spends most of her time sort of hiding in the magical world of Simon Snow, a magical series of books that she is utterly obsessed with. She's entered into a fiction writing class for upperclassmen, and she has trouble when she tries turning in fanfiction for some of her assignments.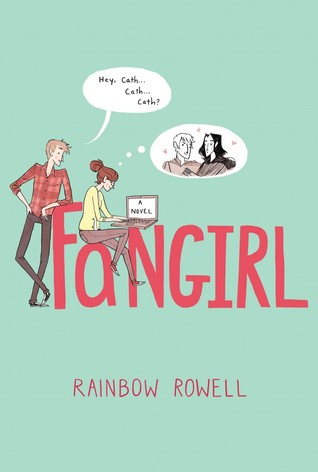 She and her professor have a conversation at one point that goes something like this:
Professor Piper nodded. "You said something last time that I've been thinking about–you said that you didn't want to build your own world."

Cath looked up. "Yes. Exactly. I don't have brave new worlds inside of me begging to get out. I don't want to start from nothing like that."

"But Cath–most writers don't. Most of us aren't Gemma T. Leslie." She waved her hand around the office. "We write about the worlds we already know. I've written four books, and they all take place within a hundred and twenty miles of my hometown. Most of them are about what happened in real life."

…

"So everything in your books is true?"

The professor tilted her head and hummed. "Mmmm…yes. And no. Everything starts with a little truth, then I spin my webs around it–sometimes I spin completely away from it. But the point is, I don't start with nothing." (307 Rowell).

Rowell, Rainbow. Fangirl. New York: St. Martin's Griffin, 2013. Print.
I read this novel going into my senior year, finally taking the fiction writing course my college offered. The amount that I related to Cath was enormous, just in being a shy and confused English major and having trouble interacting with others etc etc etc. But I really related to her when it came down to my final fiction writing project.
My whole life I've tried weaving fantasy worlds. Occasionally I've branched out and written something more real, but for the most part I've always been taken with Harry Potter and Lord of the Rings and knights and dragons and fairies and other things not of this world. But for my final project I just kept drawing a blank. Coming up with a fantasy world was one thing, being able to contain it into a short story was another. And so I knew I needed to do as Professor Piper had suggested. I needed to start from something. I needed to pull in real world knowledge.
Last year I really strove to be better at standing up for myself. I'm usually quite terrible at it in general Especially when it comes to saying no. Even in the last week I didn't say no to a friend when she asked me to do something I didn't want to, and I bought something I didn't need from a little girl who came to my door. I'm still working on it. I'm still getting better. But this last semester I did try better at speaking out in some difficult circumstances, especially in ending a friendship seven years in the making. Because I realized after a while that I had to stop being nice, that I needed to start standing up for myself and saying no. And in a moment of inspiration, I decided I should write about that.
I did. It was beautiful and fulfilling. Almost more so than making magic worlds or watching my characters live happily ever after. I was able to share an experience I'd had with the world. I was able to capture how hard it is to say no, but how crucial it is at the same time.
I'm still considering trying to send the story out, otherwise I'd put it up here for you to read.
The point I'm trying to make is sometimes you have to dig into yourself to find something worth writing about. Maybe it's not as exciting on the surface as creating something completely new or magical, or writing about something in another country or another world, or going back in time. But it's meaningful because it includes your passion and emotions. I think it gives people something more concrete to sympathize with. I felt particularly pleased when my professor commented in class "Oh I think most of us have had something like this happen before."
So, has anyone else had a moment of real life you've decided to use as a catalyst? Do you feel like most of the time you write what you've experienced or create from nothing? How do you find yourself being inspired?